Beautiful Stable Doors for Saint Austell Homes
If you are looking for a back door for your home in Saint Austell, why not give our stable doors a try? Stable doors are doors that are split vertically into two independently functioning door sections. The top half and the bottom half can open and close individually.
In addition to adding a quirky feature to your home, these doors can actually be quite useful. With two panels, you get better control over the light, ventilation, and security of your home. Plus, it's a great way to allow or restrict movement of children and pets.
With the top panel open, you can allow in all the fresh air and sunlight you want. However, since the bottom panel is closed, your children and pets can't run out. The best part is, our uPVC stable doors from Deceuninck give you immense control over the way your doors look and perform.
Highly Secure Doors with Great Features
The stable doors we offer come equipped with the inherent strength of uPVC. This durable material can be quite resilient to damage. As a result, they make breaking in quite difficult. Additionally, they have a solid core of galvanised steel. This gives their structure additional strength and rigidity.
Moreover, we offer high security locking systems from Yale. This is a name that is synonymous with safety and protection. As a result, our stable doors are guaranteed to give you and your family the peace of mind as well as heightened security.
What's more, our doors are installed to comply with strict industry standards. They feature concealed hardware that makes it impossible for intruders to dismantle them from the outside.
The hidden fittings also include sealed gaskets. They ensure your home is protected from the weather as well as intruders.
hTe gaskets create a barrier for draughts and water, so when your doors are shut, your house stays warm and dry. The best part is, because the hardware is concealed, it does not affect the clean appearance of your stable doors at all.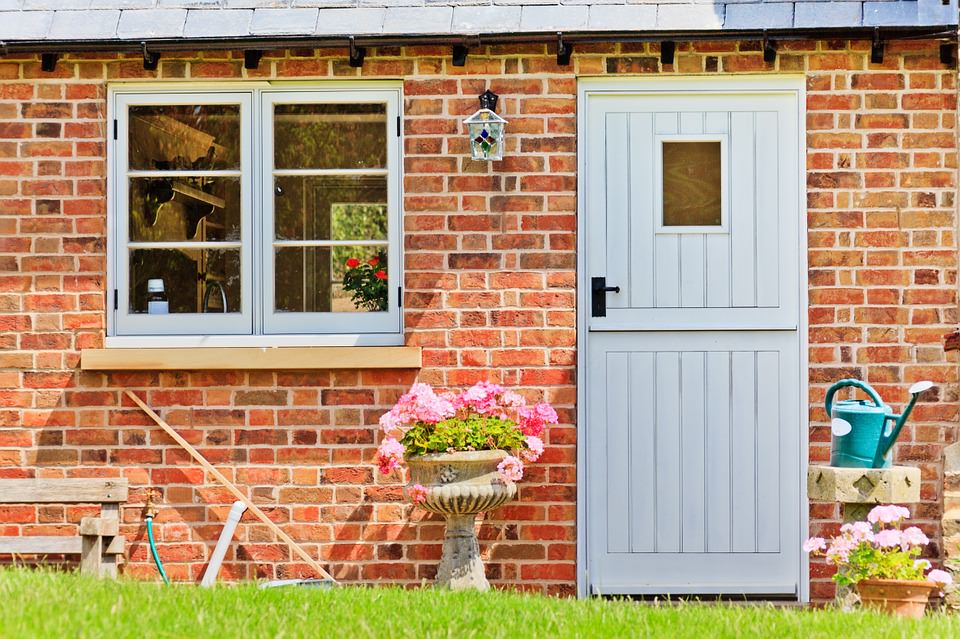 Stable Doors for Enhanced Functionality
In addition to great security and weather protection, our stables doors give you exceptional thermal performance. Our uPVC doors feature an innovative multi-chambered profile.
This allows the doors to trap pockets of warm air. These layers act as insulation for your home, leading to a warmer room with less heating needed.
Due to the insulation as well as the weatherproofing, your home can heat up faster and stay warm for longer. This means you need to spend less money on heating bills.
What's more, since you use less energy, you quickly and efficiently reduce your carbon footprint. In short, your stable doors are also good for the environment.
Moreover, uPVC is a material that can be recycled. This means that once your stable doors reach the end of their lives, they won't end up in landfills. They can be repurposed and reused, lessening the burden on the environment.
Durable Stable Doors Installed Efficiently
At Cornwall Window Centre, we try to bring our Saint Austell customers the best double glazing products in the market. This is why we trust Deceuninck, who have a reputation for excellence in the market.
The stable doors we provide are strong and sturdy. Moreover, they give you great thermal performance as well as security.
The doors are available in a range of designs, colours and finishes. In fact, you can easily create a look that matches that of authentic wooden doors. Simply select a wood-grain finish! Even though the doors themselves are made from uPVC, these finishes can help you get the timber look easily, and at a lower price.
Finally, we have an expert installation team who will make sure your stable doors are installed properly and efficiently. They have considerable experience and training. As a result, they are not only aware of the industry standards, but can also exceed all expectations.
When we fit your doors, we make sure the process does not affect your life in any way. Moreover, we respect your home and space completely. As a result, you get stunning stable doors installed efficiently, so you can enjoy them for years!
Stable Door Prices in Saint Austell
To learn more about our affordable stable door prices in Saint Austell, get in touch with us today by calling 01209 717151, or send us a message online. We have a friendly and helpful team that is happy to give you all the information you need. They will discuss your needs with you and give you the right information, as well as a stable door quote for you.
Alternatively, you can also use our online design tool to get instant stable doors price quotes. In fact, you can use the tool to get quotes for our other products as well. If you
Our Working Process In 3 steps
Cornwall Window Centre believe in offering a high quality service no matter how big or small the job. We help you from start to finish and although our expert advice is free the final decision always lies with you.
Get An Online Price
Use our online double glazing configurator to create an instant uPVC no obligation quote.
Arrange A Survey
Our representatives will be in touch to arrange a detailed technical survey to finalise the price.
Book Installation
When everything has been agreed, we will begin the installation and give you the dream home you desire.